Human-centered design was my first love in design. It means you learn situations of use and goals, and visualize solutions that support them.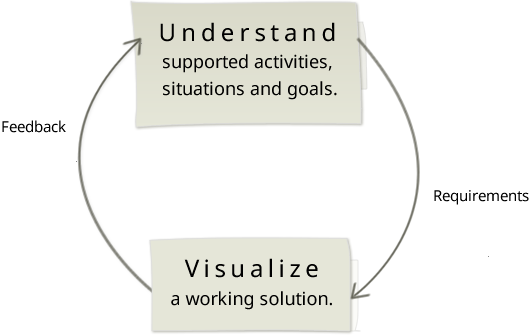 Yet users experiences exist only, when designs are live. Thus I now do beautiful user interfaces, kanban, lean startup and co-creation, too.
CSS can do magic, but backend is often as important. I want also to help backend developers.
I do photography, yoga, biking and sea kayak surfing. Moreover, I spend time with my family whenever I can.
My dream teams
All parts of a digital product affect user experience. Thus teamwork is essential for me.
Modified from Soccer_field_icon.svg by Quatar
Service design
I participate service design by asking and finding answers to what users need. I can also take facilitator role, in other words help others to set and reach goals.
Product team
Product owner wants designers to tell why and what, not only how. He comments designs with business model insight.
When there are close to zero developers who take my designs further, I start to look for new challenges.