I love human-centered design, where two actions follow each other. You study situations of use and goals, and visualize a solution that supports these.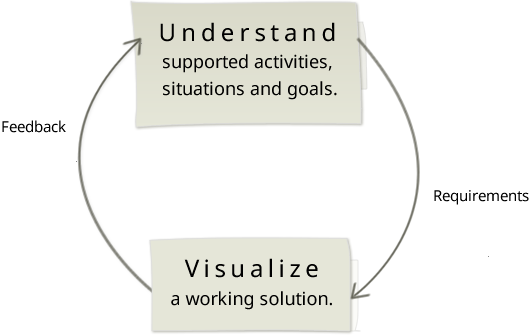 I do also kanban, co-creation, visual design, photography, sea kayak surfing and yoga.
I used to be a software developer, and have maintained my skills. CSS can do magic, but backend is often as important. I have technical skills in data modeling and search engines, too.
Modified from Soccer_field_icon.svg by Quatar
Service design
I participate service design by asking and finding answers to what users need. I can also take facilitator role, stay neutral and make it easier for a group to set and reach goals.
Product team
I love doing hands-on design, which gives my brain rest from service design. There is also another designer in the product team, maybe part-time.
Developers understand that design is not development, that they are not representative users themselves, and that you need human-centered design to understand and serve the real users.
Product owner wants designers to tell why and what, not only how. He comments designs with business model insight.
When there are close to zero developers who take my designs further, I start to look for new challenges.